Hikitia return from Refit 2009
It was a surprisingly cold and grey Thursday early in November when a pretty historic event occured - the return of the self-propelled floating crane Hikitia to Wellington harbour after a long cleaning and refit in a dry-dock at Lyttleton Harbour. The Hikitia itself sailed out to Wellington from Scotland in 1926. Not a small journey across some pretty difficult seas proving her to be a tough sea worthy craft. Since that initial world spanning trip she has been a fixture of the Wellington harbour helping out with any heavy lifting needed.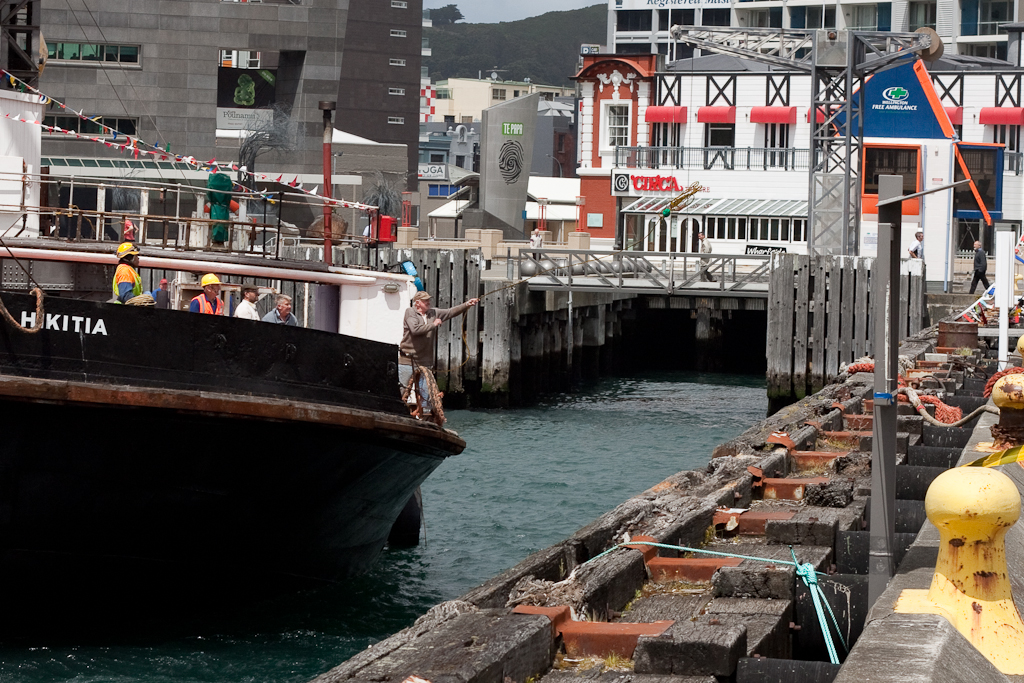 Her refit and scraping was a much shorter journey, simply across the Cook Strait and down to the Christchurch region. While not globe spanning like her original trip to get here it still goes over some very wild and deep water. The strait itself gets up to 2km deep in parts and is a piece of water you have to respect as it tends to punish those who treat it lightly. Part of the refit process was re-certifing and inspecting the hull to check that it was still fully sea worthy. I wonder how nervous the crew was that sailed her over for that inspection as she very rarely has left the harbour during the intervening eighty years.
The return journey had to be a bit less stressful with a newly patched, cleaned and painted hull. Here you can see the moment the Hikitia had fully returned as the guide-rope was thrown across. Not too long after this, once the heavier hawsers had been secured and the crane was fully docked Mr McGregor rang the ships bell to much applause. It was good to see a decent crowd, there in the middle of a working day, present to welcome the ship back.
This is a crane that has come close to being scrapped during its history as the pattern of how the harbour is used has changed over the years. It has been a sucession of dedicated and often unsung volunteers who have stepped forward to keep her as a functioning ship. Given that it is likely she is the last working steam crane left in the world it is this remarkable work that has kept her alive as a living piece of martime history.
With her fully docked this left me with some time to find the more beautiful chunks of the ship.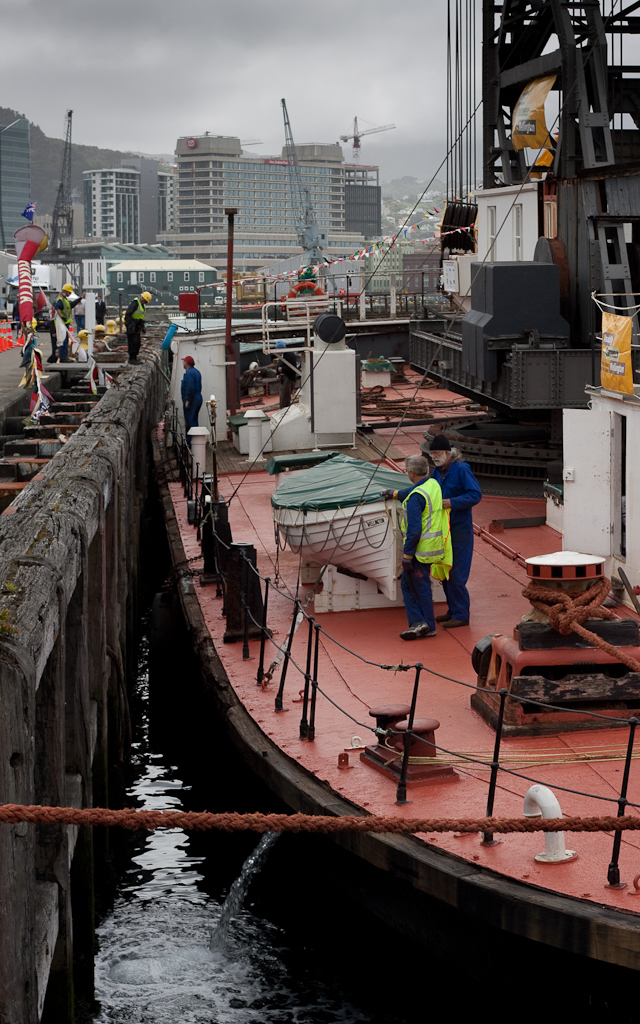 If you are interested in finding out more about the Hikitia then she has her own website, www.hikitia.com, where there is a brief history of the ship as well as contact information if you want to find out more.
---
Philip R. Banks
Send Email